{{{name}}}
No image available
Physical Information
General Information
Backup
is the loyal dog, a pit bull, owned by
Keith
and
Veronica Mars
. Veronica often takes him with her to protect her from unsavory types, although Backup refused to be unfriendly toward
Logan Echolls
when Veronica suspected him of killing
Lilly Kane
.

Veronica: I'll be at home. With the only sane member of the Mars family.
Keith: The one who eats from the garbage and keeps bringing me dead birds?
Veronica: That's the one.
Trivia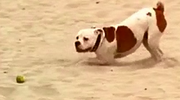 The dog who portrayed Backup changed after a few episodes: initially played by the white and brown American bulldog Gordo, he was replaced with peachy-cream colored pit bull named Lefty.[1]
References