"Charlie Don't Surf" was the fourth episode of the third season of Veronica Mars.
Plot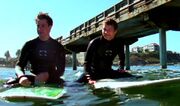 When Logan is informed that his inheritance is running low, he becomes suspicious and enlists Veronica's help to sort through his financial records. Veronica uncovers that large sums of money have been going to a man named Charlie Stone. Charlie turns out to be his illegitimate half-brother. He arranges to meet Charlie and starts what appears to be a promising relationship, opening up a lot about his father and family life, only to discover the man he's been bonding with is actually a writer for Vanity Fair looking for dirt. The real Charlie Stone is an unassuming teacher who just wanted to remain anonymous--but Logan only learns this after outing him, believing Charlie had set the reporter on him.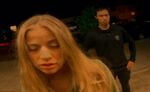 Dick Casablancas hires Veronica to clear his frat of any wrongdoing in the rape of Claire Norhouse. She finds an ATM security camera photo of Claire with an unidentified Asian boy at 2 a.m., hours after the Pi Sig party had ended, exonerating the frat's members.
Keith is hired by Harmony Chase to investigate her husband, who she believes is cheating on her. When he discovers that Harmony's husband is faithful, she's not sure how to respond.
Arc significance
Dick Casablancas got Parker's number at orientation. Later, on the night before Parker was raped, Mac heard Dick banging on Parker's door. The night Parker was raped, Dick showed up at Logan's place saying "I screwed up bad."
An ATM camera reveals that Claire was with an Asian boy the night that she was raped.
Music
"Never Lonely Alone" - Space Needle
Trivia
This episode had an estimated audience of 3.33 million viewers on its first airing.[1]
Despite being credited, Chris Lowell (Piz), Tina Majorino (Mac), Michael Muhney (Sheriff Lamb), and Francis Capra (Weevil) do not appear in this episode.
The title of this episode references a line spoken by Colonel Kilgore in the film Apocalypse Now, the "Charlie" in question being the Viet Cong. It's also the title of a song from The Clash's triple album, Sandinista!.
Veronica's line, "Hey! Careful, man, there's a beverage here!" is another of many references in the series to the movie, The Big Lebowski.
Harmony Chase is played by Laura San Giacomo, who starred in Just Shoot Me! with Enrico Colantoni (Keith Mars). In that series their characters also had an affair.
This show featured another Logan from The CW: Matt Czuchry, who plays Logan Huntzberger on Veronica Mars lead-in show Gilmore Girls, guest starred as Norman Phipps, the fake half-brother and writer from Vanity Fair.
Logan references Sidney Poitier, the father of Sydney Tamiia Poitier (who plays Mallory Dent in season one), when Veronica answers Logan at the door of their apartment ("Were you expecting Sidney Poitier?").
References
External links
Community content is available under
CC-BY-SA
unless otherwise noted.