Mary Mooney is a deaf cafeteria employee and Neptune High and Trina Echolls' biological mother. When she was in high school, she had an affair with then-Vice Principal, Alan Moorehead. She got pregnant and asked her friend, Lianne Mars, for help.
Lianne sought advice from her friend, present day Health teacher Deborah Hauser. Deborah began to spread the story around. To protect Mary, Lianne recants and tells the principal that it was all just malicious rumors she spread. Lianne and Deborah were suspended. Mary leaves her baby in the father's doorstep after she gives birth. In panic, the father would then place the baby in the bathroom on prom night to make sure people would think it was a teenager's child.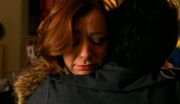 Years later, however, Lianne's daughter, Veronica Mars would then find the file on her mother about the story when Vice Principal Van Clemmons gives her detention. She follows up on the file, albeit with the linkable sources blacked up to prevent any leaking information. Veronica assumes that the mother was Celeste Kane at first, but, with Trina's help, gets the unwitting assistance of the tabloids and Mary quickly comes to Veronica and Trina to offer her bone marrow.
Mary tells Veronica everything, which she passes on to Trina, who storms a meeting between the teachers and quickly tells everyone how the Principal was her father. Principal Morehead is then fired and Clemmons gets the position, which Veronica deduces that it was his plan all along for Veronica to discover the file and investigate.
Appearances
Community content is available under
CC-BY-SA
unless otherwise noted.