"Postgame Mortem" was the thirteenth episode of the third season of Veronica Mars.
Plot
No sooner has Wallace Fennel rejoined the Hearst College basketball team than the basketball coach, Tom Barry, is found dead by gunshot. The coach's widow hires Keith to investigate the murder of her husband and to clear her son, Josh--Sheriff Lamb's prime suspect.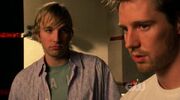 Logan is wallowing in self-pity after his breakup with Veronica, so Dick invites two girls over to cheer Logan up. Dick's new girlfriend arrives with her sister Heather, as promised, but Heather is only 11 years old. Dick goes out to a party with his new girl and ends up in Las Vegas, married--leaving Logan to babysit Heather for about three days.
Heather, on learning that Logan is moping over Veronica, tries to win her back for him by requesting an apology and love song on the radio. Soon afterward Heather and Logan meet Veronica in an elevator. Heather tells Veronica that Logan is sorry and still loves her. Logan drags Heather out of the elevator and tells her she doesn't know anything about love. Heather locks herself in Dick's room. Logan gets a call from Heather's sister, saying that Heather has been disturbed lately because their father walked out, but is fine so long as she gets her daily Prozac. Logan, feeling bad, takes Heather out for ice cream. They return to find Dick and his new wife arguing. Heather and Logan agree to keep in contact.
Logan, obviously feeling better about the Veronica situation, starts going back to class.
Arc significance
Mindy O'Dell fires Keith from the case.
Josh Barry escapes from jail and Veronica is arrested under the pretense that she aided him.
Two men were fighting in Hank Landry and Mindy's hotel room.
Someone (probably Hank or Mindy) took the Volvo from valet 30 minutes before the Dean's murder, and brought it back 30 minutes afterwards.
Music
"White Balloons" - Stephen Ashbrook
"Too Much to Ask For" - Radio 4
"Under Me" - Josh Kramon
"What's Left of Me" - Nick Lachey
Writing and acting
Jonathan Chase is the third main cast member from the TV show One on One to guest star on Veronica Mars. The previous two were Robert Ri'chard in "President Evil", "Hi, Infidelity", and this episode; and Kyla Pratt in "The Wrath of Con".
Heather dedicates the Nick Lachey song "What's Left of Me" to Veronica on Logan's behalf in hopes of reuniting her and Logan.
Quotes and trivia
The title is a reference to postmortem which has to do with time following death.
The video game that Logan and Heather play is Mario Kart: Double Dash.
External links
Community content is available under
CC-BY-SA
unless otherwise noted.