"
Poughkeepsie, Tramps and Thieves
" was the eleventh episode of the
third season
of
Veronica Mars
.
Plot
Max, a student (previously seen as the "tutor" Wallace bought tests from in "President Evil"), hires Veronica to find a woman he says he's in love with, but he doesn't know her last name or where she lives. He just knows she's getting married soon, due to a text message she sent to him. Veronica learns that the mystery woman isn't quite what Max thought.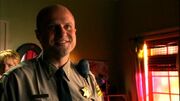 Keith
learns that
Dean O'Dell's
office was egged on the night of his alleged suicide. He visits
Lilith House
in his old sheriff uniform to try to intimidate the women into revealing information about the night of Dean O'Dell's murder.
Nish Sweeney
says that she was at the Dean's office building and egged the Dean's Volvo, but did not egg the Dean's window. Keith then informs Nish and the other girls that he believes the Dean was murdered.
Madison Sinclair stuns Veronica with the shocking news that she and Logan had a fling at Aspen while Veronica and Logan were broken up.
Arc Significance
The Dean's office being egged was not reported in one of the news articles.
Mindy O'Dell might have been on campus the night of the murder.
Three Lilith House girls were in the area of the Dean's office around the time of the murder.
Madison Sinclair tells Veronica that she and Logan hooked up in Aspen when Logan and Veronica had broken up. Previously, Logan said he only had one fling with a girl on the beach, seen in the last episode while they were broken up.
Music
"Never The Same Again" - Moonlight Towers
"Yeah!" - The Golden Dogs
"A Thousand Kisses Deep" - Leonard Cohen
"Wheels" - Mark Lanegan
Feedback and ratings
The episode scored approximately 2.74 million viewers. [1]
Quotes and trivia
The episode's title is a reference to the Cher song "Gypsys, Tramps & Thieves".
Poughkeepsie is a city in New York.
The episode contains several references to the re-imagined Battlestar Galactica. Number Six, the Cylons, Cylon Raiders, "frak", and "so say we all" are mentioned.
Veronica makes a reference to American Beauty mentioning the beauty of a plastic bag flying around when Max tells her about the night he spent with Chelsea and what they talked about.   
References
External links
Community content is available under
CC-BY-SA
unless otherwise noted.