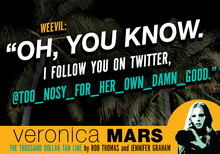 Veronica Mars: The Thousand Dollar Tan Line is a novel by Rob Thomas and Jennifer Graham. Published by Random House on 25 March 2014 as a Vintage Books trade paperback, an eBook, and an unabridged Audiobook read by Kristen Bell.
Publisher description

The first book in an original mystery series featuring twenty-eight-year-old Veronica Mars, back in action after the events of Veronica Mars: The Movie. With the help of old friends—Logan Echolls, Mac Mackenzie, Wallace Fennel, and even Dick Casablancas—Veronica is ready to take on Neptune's darkest cases with her trademark sass and smarts.
Rob Thomas has said in an interview that the novel(s) are canon, i.e. they will not be negated by a future film or TV production.
| Format | ISBN |
| --- | --- |
| Paperback | 978-0-8041-7070-3 |
| eBook | 978-0-8041-7071-0 |
| Audiobook | 978-0-8041-9351-1 |
External links
Novel at Vintage Books website