"Un-American Graffiti" was the sixteenth episode of the third season of Veronica Mars.
Plot
Veronica is hired by a Middle Eastern restaurant owner to find out who has been vandalizing his family's business with the word "terrorist". While investigating the case, Veronica and the restaurant owners are attacked in a drive-by shooting with paintball guns.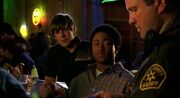 When a drunk teenager stumbles from a bar and gets hit by a car, Keith orders his deputies to conduct surprise ID checks in all the area bars. While doing his own surprise search, Keith catches Piz and Wallace using fake IDs provided by Veronica.
Logan throws a birthday party for Parker. At the party, Veronica's love life takes a surprising turn when she first tells Piz she just wants to be friends, and then kisses him.
Arc significance
Keith Mars asserts his authority as the new sheriff by firing some of his dissident deputies.
Piz kisses Veronica. Piz walks out of the party and Veronica follows him. They kiss again by the elevator, which opens to reveal Logan.
Veronica makes a reference to the space elevator mentioned in the episode Look Who's Stalking.
Music
"Carrickfergus" - Noel McLoughlin
"Requiem - Tuba Mirum" - Giuseppe Verdi
"Trina" - Public Bulletin
"Hold On To You" - The Waking Hours
"13th Floor" - Mere Mortals
"The Hard Light" - Mere Mortals
"The Time of Times" - Badly Drawn Boy
"And I Was A Boy From School" - Hot Chip
"Rally" - Phoenix
Quotes and trivia
This episode garnered 2.4 million viewers on its first airing.
The title comes from a play on words from the George Lucas film American Graffiti.
Veronica quotes from the movie Pulp Fiction when aiming the paintball gun at the vandals: "Say 'what' again, I dare you. I double dare you" and "Check out the big brain on Brad!"
She also addresses one of the kids as Towelie, a character from the TV show South Park who smokes large amounts of marijuana.
Piz misses a Yo La Tengo concert to go to Parker's party.
"The dude abides", the quote on Dick's Myspace page, is another of many references to the movie The Big Lebowski.
Television Without Pity gave this episode a C+ which is the worst grade the show has ever received on the site.
Piz describes the film The Room to Wallace while walking down the hall in their dorm, saying "It's like the new Rocky Horror. Now at one point, people throw plastic spoons at the screen.... You have to check it out. It'll... it'll change your life."
External links
Community content is available under
CC-BY-SA
unless otherwise noted.