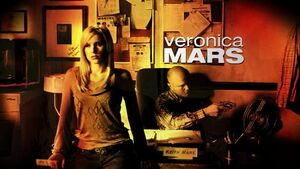 Veronica Mars is an American teen-drama, neo-noir, and mystery television series that aired on UPN from 2004-2006 and then on The CW from 2006-2007. The series focuses on the life of Veronica Mars, a student that progresses from high school to college while performing investigations and solving mysteries moonlighting as a private investigator under the influence of her detective father.
Each episode has Veronica solving a stand-alone mystery while trying to solve a bigger and more complex mystery each season that begins during the season premiere and gets solved during the season finale. The first two seasons follow this format creating season-long story arcs while the third season made the mystery story arcs shorter and lasting for only several episodes during the season.
Season 1
The whole first season sees the titular character, teenage investigator : Veronica Mars, trying to solve the murder of her best friend : Lilly Kane, which happened, one year before the beginning of the series.
Episodes
Cast
Season 2
After solving the mystery of finding Lily Kane's killer, a new mystery for Veronica Mars begins. The second season in the series resolves around the Neptune High Bus Accident Case that lasts for the full season and involves Veronica, surviving the accident as she was not present in the vehicle, solving the mystery of how the bus crash happened and if it was really an "accident".
Episodes
Cast
Season 3
Graduated from Neptune High, Veronica and her friends move to Hearst College where they begin their freshman year of college, Veronica meets new friends including Parker Lee. After solving the mystery of the bus accident, another set of mysteries appear for Veronica and her friends. Unlike the previous seasons, season 3 has shorter mystery story arcs to fit in two story arcs in one season instead of one story arc a season long. The first story arc is about Veronica finding the college rapist that raped other female students including Parker. (Hearst College Rapist Case) This first story arc begins from the season premiere to Spit & Eggs. The second story arc involves Veronica solving the mystery behind Cyrus O'Dell, the college Dean of Students. (Cyrus O'Dell Murder Case) This second arc begins at the end of Spit & Eggs to The Bitch is Back.
Episodes
Cast
Chris Lowell as Stosh Piznarski
Tina Majorino as Cindy "Mac" Mackenzie
Community content is available under
CC-BY-SA
unless otherwise noted.